Naomi Campbell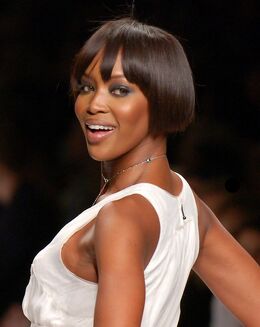 Biographical Information
Professional Information
Naomi Elaine Campbell, born May 22, 1970, is an English model, actress, singer, and author. She is well-known as one of the three most recognizable models in the 1980s and 1990s. She has written novels and released her debut R&B-pop album. She is also well-known for her role as a judge on the Oxygen reality television series, The Face. She portrays a recurring role as Camilla on Fox's TV series, Empire.
Early life
Campbell was born in Streatham, South London, the daughter of Jamaican-born dancer Valerie Morris. In accordance with her mother's wishes, Campbell has never met her father, who abandoned her mother when she was four months pregnant and was unnamed on her birth certificate.
She took on the surname Campbell from her mother's second marriage. Her half-brother, Pierre, was born in 1985. Campbell is of African-Jamaican descent, as well as of Chinese Jamaican ancestry through her paternal grandmother, who carried the family name Ming.
External Links
Ad blocker interference detected!
Wikia is a free-to-use site that makes money from advertising. We have a modified experience for viewers using ad blockers

Wikia is not accessible if you've made further modifications. Remove the custom ad blocker rule(s) and the page will load as expected.