Kaitlin Doubleday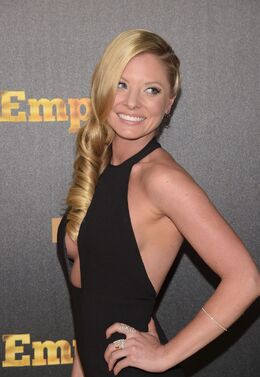 Biographical Information
Professional Information
Kaitlin Janette Doubleday is an American actress, born on July 19, 1984. In her early career, Doubleday has had many supporting roles, and she is currently a main character, Rhonda Lyon, in the FOX television series, Empire.
Early Life
Kaitlin Doubleday was born and raised in Los Angeles, California to Frank Doubleday and Christina Hart, a playwright and producer. She was raised in a show business family. Her parents are former professional actors, and her sister, Portia Doubleday, is an actress. 
Career
Doubleday appeared in many television series and movies; her first debut was in the series, Without a Trace in 2002. She appeared in Catch Me If You Can, The TV Set, and Accepted. Meanwhile, she was the female lead in a cancelled television series, Cavemen, which received negative reviews. She appeared in many other shows, such as CSI: Miami, Brothers & Sisters, Bones, The Closer, Cold Case, Criminal Minds, Drop Dead Diva, and Witches of East End. 
She now appears in Empire as Rhonda Lyon, Andre's wife.
External Links
Ad blocker interference detected!
Wikia is a free-to-use site that makes money from advertising. We have a modified experience for viewers using ad blockers

Wikia is not accessible if you've made further modifications. Remove the custom ad blocker rule(s) and the page will load as expected.