Grace Byers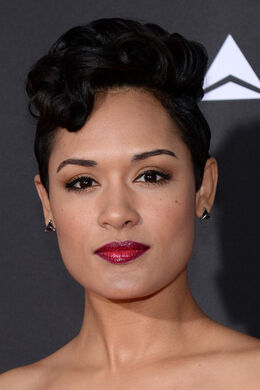 Biographical Information
Professional Information

Grace Byers (née Gealey), born July 26, 1984, is an Caymanian-American actress. She portrays Anika Calhoun on Fox's TV series, Empire, marking her very first major television role.
Early life and career
Gealey was born in Butler, PA and was raised in the Cayman Islands from the age of 2. After moving back to the United States, she received her Bachelor's in Theater Arts at the University of South Florida in Tampa. Gealey later attended the University of California in Irvine where she received her Master's on Fine Arts in acting. Gealey later moved to New York where she performed in the off-Broadway stage, including roles in Venus Flytrap: A Femme Noir Mystery Rent. In 2013, she performed in the Chicago productions of The Misanthrope and Tartuffe. In 2016, she married fellow Empire co-star Trai Byers.
External Links
Ad blocker interference detected!
Wikia is a free-to-use site that makes money from advertising. We have a modified experience for viewers using ad blockers

Wikia is not accessible if you've made further modifications. Remove the custom ad blocker rule(s) and the page will load as expected.